NEXAIRE UVC Mini Kits Model NUV-86M
Fit with all major air conditioner brands
NEXAIRE UVC Mini Kits Model NUV-86M For MINI-SPLIT Air Conditioner, a new way of disinfection for air conditioning, by applying the most effective UVC+UVA ( Ultraviolet Disinfection) to fit with all major air conditioner brands.
The proliferation of bacteria and viruses has increased the demand for air purification, then more and more people pay their attention on the ultraviolet ray to sterilize and kill viruses. UV LED(UVC, UVA) is the air disinfection system applied for air conditioning. It was proved to be killing virus/ bacterial at a 99.9% killing rate.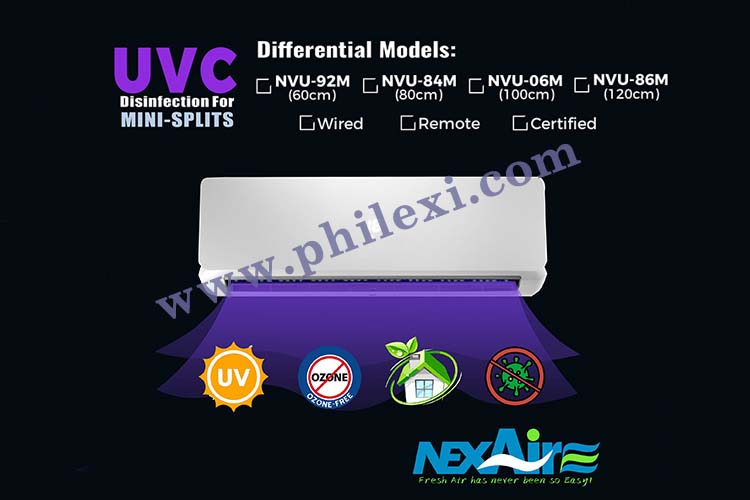 NEXAIRE UVC MINI Kits For MINI-SPLIT Air Conditioner
We all need a green, clean and healthy world, and that is how NEXAIRE is created. NEXAIRE is a leading brand for the new concept of air purification, disinfection and energy saving products. The meaning of NEXAIRE is for the air for future, which we are stiving to have the solution for a long-lasting and effective technical innovation. Based from China, NEXAIRE develops multiple product solution for disinfection and purifications of HVAC industry. We have UV light mini kits for residential and light commercial applications, Germidical UV light for commercial and industrial application. Also, ozone and negative ion technology are applied for hospitals, schools and so on. NEXAIRE, aiming to be one of the leading brand in HVAC disinfection, we look foward to be your partner and develop the business together. And for a green world that we share!